Entertainment
Welcome to Cistern Country Store/Bar – A Great Place to Be for Outstanding Fun and Entertainment
If you're in Cistern, TX or other surrounding areas and are looking for a great place to unwind and have a great time with friends and other guests, you couldn't have come to a better place!
Entertainment
Karaoke
Fridays, 8PM – Midnight
– Nov. 10, J.C. Leary
– Nov. 17, J.C. Leary
– Nov. 24, John Hanson
– Dec. 1, John Hanson
– Dec. 8, John Hanson
– Dec. 15, J.C. Leary
– Dec. 22, John Hanson
– Dec. 29, J.C. Leary
Live Music
Saturdays 8 PM – Midnight;
4th Sunday 2 PM – 5 PM
– Nov. 11, Glen Collins and the Alibis – Country
– Nov. 18, Johnny Rockit Band – 60-70's Rock
– Nov. 25, Scott Wilkinson & EZ Country Band
– Nov. 26, Bucksnort Boogie Boys – Bluegrass
– Dec. 2, Midnight Wranglers – Country
– Dec. 9, Ronnie Ramirez & Larry Waddel- Country
– Dec. 16, Boogie Allen Band – Country
– Dec. 23, Sean Orr Band – Honkytonk Country
– Dec. 30, Envy of Them All – Bluegrass
– Dec. 31, Ronnie Ramirez – Country
Music Bingo
Hosted by DJ Livewire: Wednesdays 7:30 PM – 10:30 PM
– Dec. 27th, is "Dress 70's Night". Free Cards if Fully 70's Dressed.
Pool
Free Pool on Sundays!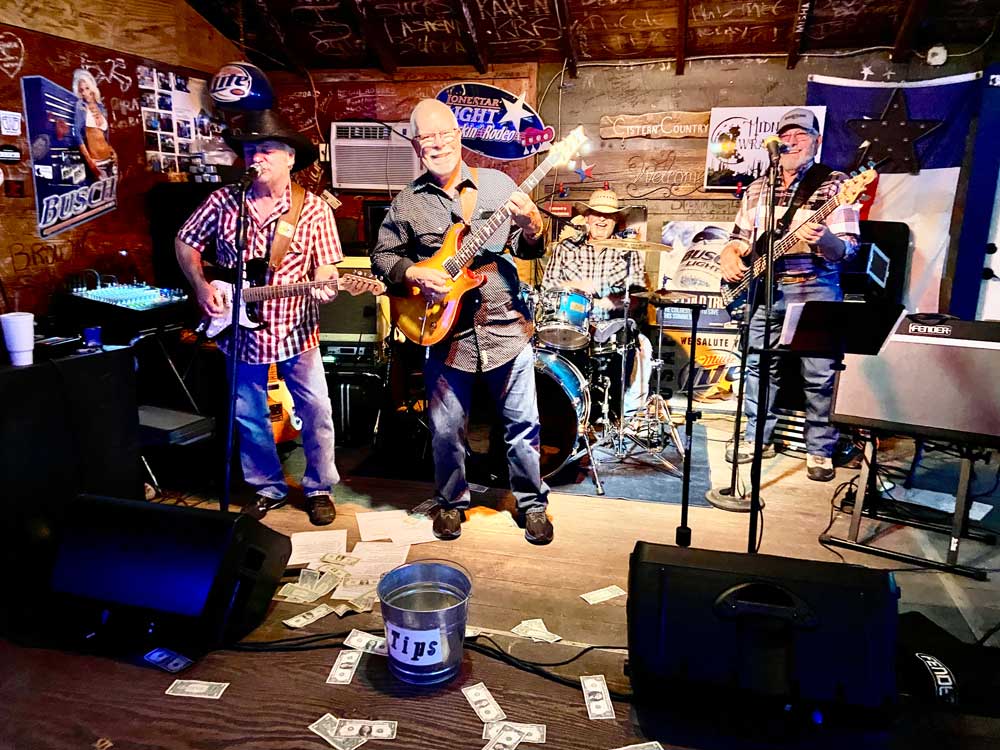 Check Out Our Amazing Entertainment
Cistern Country Store and Bar is Cistern, Texas' premier destination for burgers, quality fun, amazing entertainment, and hours of fun. Whether you're relaxing after a week of hard work at the office, celebrating an anniversary or birthday, or just want to unwind and spend quality time with friends, there's no need to look anywhere else because we've got all your needs covered!
We provide our guests with high quality entertainment, live music, karaoke, food, deli, barbecue, pool tables, jukebox, and others. We also have a small convenience store that's fully stocked with all your needs. So stop in and enjoy great beer, burgers, entertainment, live music, and karaoke with friends, other local, and other guests!
Here at Cistern Country Store and Bar, we truly enjoy seeing the happy faces of our customers. We're committed to helping everyone have a great time and are committed to delivering fast, friendly service that gives our guests that added personal touch, making them feel right at home the moment they walk through our doors.
We're a favorite Texas Style honky-tonk place for our community to hang out. Our services are open to local residents, visiting guests, bikers, hunters, and other travelers that come through town.
And if you want to learn more about us, please feel free to drop by or join on Facebook!
Stop By Today!
NO COVER CHARGE!
NO SMOKING AFTER 7 PM FRI & SAT

Phone:

Email: