About Our Bar in Cistern, TX
Built in the early 1900's, the store is the second oldest building in in the small village of Cistern. Throughout our history, one thing has remained consistent: it started as a bar (or a saloon in the olden days), and it's still a bar! We're also told that Cistern is the highest point in Fayette County with elevation at 466 feet…which is an awesome view from our deck.
In 1924, five year old Avis Plentl remembers buying material for a red dress and matching red socks here. In the 1940's and 50's, you could buy feed for your chickens and livestock, hardware, kerosene, ice by the block or cubed, groceries, clothing, and household goods. You could also bring yard eggs and trade them for staples such as 25 lb. sacks of flour, sugar, meats and groceries that weren't grown at home. By 1980, the store and bar no longer carried feed, kerosene or traded eggs, but continued to carry general groceries, deli meats and cheeses, motor oils and fluids.
Currently, the Cistern Country Store serves the community as a convenience store complete with deli cooler filled with the local favorites. One can get a homemade burger and fries, deli or barbecue sandwich, and a very cold beverage of your choice. And on Friday and Saturday nights, patrons love to sing karaoke and dance to live music, or shoot a few games of pool. Cards, dominoes, pool and the juke box are the other times. Regardless, at Cistern, everyone is welcome!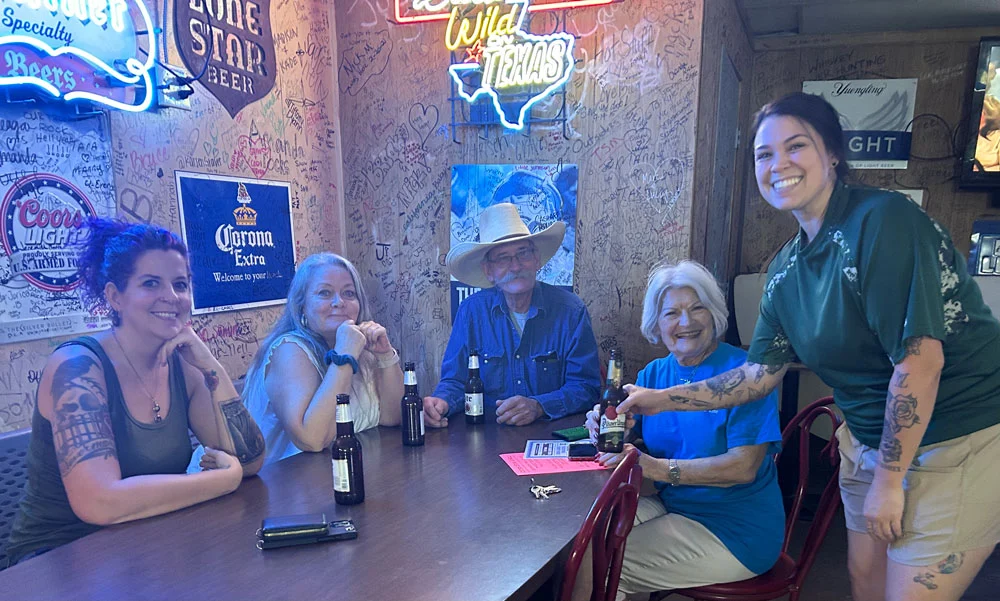 Known Owners and Operators Dating Back to the Early 1930s.
2009 – Present: Betty (Otahal) Danner & Stephanie Danner
2002 – 2009: Conrad & Betty (Otahal) Danner
1979 – 2002: Johnny, Mary Ann & Tyler Otahal
Operated by: Beatrice Otahal (Ms. Bea)
1973 – 1979: Olien & Lorraine (Stolle) Stuessy
1969 – 1973: Franklin & Gladys (Vinklarek) Farek
1967 – 1969: Felix & Billie Mae (Brietschoph) Janecka
1948? – 1967: Emil Janecka & Charlie Vinklarek
1941? – 1948?: Joseph Kuntschik , Owner
Operated by: Eddie Brietschoph
1930? – 1941?: Julius Janecka
Previous Owners: Joseph Kuntschik & Mr. Svec